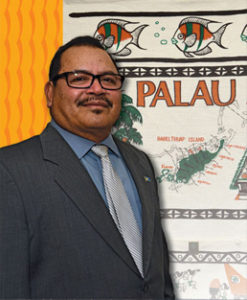 His Excellency Hersey Kyota
Ambassador
Alii and Welcome to the Embassy of the Republic of Palau in the United States of America's newly upgraded website! In anticipation of your need and our desire to serve you a little better we have improved and upgraded this website and hope that you will find it helpful to your needs and worthy of your visit. I hope that by launching and making this upgraded website accessible you would be able to learn more about the Republic of Palau and the roles and responsibilities its Embassy undertake in the United States of America.
This website is intended to serve as a medium through which useful information about the people, life, culture, economy, government, and travel industry of Palau are available at the click of a mouse. I sincerely hope the information provided here online is useful and adequate to your needs and inquiries. If after browsing through the website you still find yourself uncertain or feel the need to know more about anything else, don't hesitate to pick up the telephone and give us a call. Together, we will find the answer or find someone who knows the answer. The Embassy will continue to improve this website, and hope that someday it can be a one-stop site for all your needs. As such, we welcome your input, suggestions and advice.
Equally important as an objective of this website, it would serve to inform both our Palauan citizens in the United States of America and its possessions and non-Palauan end users the roles and responsibilities that we lawfully undertake to represent the interests of our people and government to the government of the United States, as well as other countries and international organizations that have representation here in the United States of America.
The Republic of Palau shares a unique relationship as an independent country in free association with the United States of America under a treaty called the Compact of Free Association. A considerable amount of work we do revolves around this agreement, which is posted along with other relevant U.S. laws in this website for easy access. With these important documents available online you will be able view them at a click of a mouse and to grasp some of their highlights.
From time to time the Embassy will be posting information regarding developments back in Palau and here at the Embassy, and we invite our users to tap into the site to get some updates. Without tossing aside the telephone, we have so greatly benefited from, the Embassy stands ready to hear from you with any questions or concerns you may have about Palau and/or any matters concerning the status of its people here in the United States. We have provided a section in this website where we invite visitors to provide their comments and concerns. Also in the same section we invite users to provide personal contact information (e-mail and mailing addresses and telephone), which will be kept confidential for official use by the Embassy, unless an individual request is made to post such information online. We here at the Embassy are gladly and faithfully executing our emissary role and hope to hear from you!
Mesulang,
Ambassador Kyota